LugCamp 2022
26. - 29.
maj
may
Maj
(Kr. Himmelfart + weekend)
(Ascension Day + weekend)
(Himmelfahrt + Wochenende)
Velkommen til LugCamp 2022 i Danmark, afholdt af AlsLUG i Ullerup udenfor Sønderborg.
Welcome to LugCamp 2022 in Denmark, hosted by AlsLUG located in Ullerup outside Sønderborg, approx. 30km from the German border.
Willkommen bei LugCamp 2022 in Dänemark, veranstaltet von AlsLUG in Ullerup außerhalb von Sønderborg, 30 km von der deutschen Grenze entfernt.
---
Campen afholdes på en tidligere skole, hvor der vil være adgang til følgende:
The camp will be held on a former school, were we will have:
Das Camp wird in einer ehemaligen Schule abgehalten, wo wir folgendes zur Verfügung haben werden
LAN område.
LAN-area.
LAN-Bereich.
Mødelokale for foredrag etc in AlsLUGs lokaler.
Meeting-room for presentations etc in the space of AlsLUG.
Besprechungsraum für Präsentationen usw. im Raum der AlsLUG.
Mulighed for overnatning i det gamle bibliotek og i gymnastiksalen.
Possibility of accommodation in the old library and the gym.
Möglichkeit der Unterbringung in der alten Bibliothek und ind der Gymnastikhalle.
Fiber-forbindelse til nettet.
Fiber-connection to the net.
Glasfaserverbindung zum Netz.
WiFi på hele området
Wifi in the entire area
Wifi im gesamten Bereich
Campingplads til telte på græsplænen bag skolen.
Camping-area for tents on the lawn behind the school.
Zeltplatz auf dem Rasen hinter der Schule.
Campingområde for campingvogne og mobilhomes i skolegården.
Camping area for caravans and mobile homes in the schoolyard.
Camping für Wohnwagen und Wohmmobile im Hof.
Forskellige foredrag.
Har du noget du vil fortælle om? Så send en mail til Various presentations.
Do you have a topic you want to tell us about? Please send a mail to Verschiedene Präsentationen.
Haben Sie ein Thema, über das Sie uns erzählen möchten? Bitte senden Sie eine Mail an info@lugcamp2022.alslug.dk

med detaljer, så vi kan lave en liste her på siden.

with details, so we can publish a list here on the site.

mit Details, damit wir eine Liste hier auf der Site veröffentlichen können.

Udflugt og rundvisning til Nydam Mose og rekonstruktionen af Nydambåden.
Excursion to Nydam Mose and the rekonstruction of the Nydam-boat.
Ausflug zur Nydam Mose und der dekonstruktion von der Nydam-boot.
Vi håber at se dig i Ullerup.
We hope to see you in Ullerup.
Wir hoffen, Sie in Ullerup zu sehen.
Please remeber to bring your passport or other valid travel-id.
There is border-control when you cross the border into Denmark.
Bitte denken Sie daran, Ihren Reisepass oder eine andere gültige Reise-ID mitzubringen.
Wenn Sie die Grenze nach Dänemark überqueren, gibt es Grenzkontrolle.
Map currently unavailable.
Lejrenes adresse er:
The adress of the camp is:
Die Adresse der camp lautet:
Bakkensbro Aktivitets- og Kulturcenter
Bakkensbro 6, Ullerup
DK - 6400 Sønderborg
GPS-position: 54.96369 N 9.65506 Ø
---
Forløbigt program. Vi forbeholder os ret til ændringer, tilføjelser og sletninger af punkter.
Tekst med grå farve er aktiviteter som ikke er sikre endnu, eller forslag til tidspunkt for individuelle aktiviteter.
Preliminary program. We reserve the right to make changes, additions and deletions of items.
Gray color text is activities that are not confirmed or suggestive of time for individual activities.
Vorläufiges Programm. Wir behalten uns das Recht vor, Änderungen, Ergänzungen und Löschungen von Punkten vorzunehmen.
Grauer Text ist Aktivitäten, die noch nicht sicher sind oder die Zeit für einzelne Aktivitäten andeuten.
19:00-ish Aftensmad. Dinner. Abendessen.
19:00-21:00: Der er mulighed for at få et kig indenfor hos vores nabo-forening, There is the opportunity to have a look inside at our neighboring club, Es besteht die Möglichkeit, einen Blick in unseren Nachbarverein zu werfen, Alssund Akvarieforening
19:30-21:00: Some workshop?
21:30-23:00: Some workshop?
10:00-11:30: Some workshop?
13:30 Afgang til Departure for Abfart nach Nydam Mose og and und Sottrupskov
14:00-16:00 Fælles rundtur med guide til Nydam Mose og rekonstruktion af Nydam-båden Joint guided tour to Nydam Mose and the rekonstruction of the Nydam-boat Gemeinsame Führung zu Nydam Mose und der Rekonstruktion der Nydam Boot
15:00-17:00 Rundvisning hos Nydamselskabet på Bakkensbro Visit at workshop of Nydamselskabet on Bakkensbro Führung bei Nydamselskabet auf Bakkensbro
19:30-21:00: Some workshop?
21:30-23:00 Some workshop?
10:00-11:30: Some workshop?
13:00-17:00 Åbent hus for eksterne besøgende
19:30-21:00 Some workshop?
21:30-23:00 Some workshop?
Afrejse Departure Abfahrt
Buffet menu (aftensmad)
Buffet menu (dinner)
Buffet menu (abendessen)
---
The menus in english has been translated by Google. Accuracy is not garantied. Please check the danish or german translations.
Svinekølle helstegt som vildsvin
Mør oksesteg glaseret med kraftfuld smag
Saftig kryddermarineret kalkunbryst
Pork roasted as wild boar
tender roast beef glazed with powerful flavor
Juicy spice marinated turkey breast
Schweinebraten
Glasierter Rinderbraten
Saftig, marinierte Putenbrust
6 slags af årstidens salater og grønsager
2 slags dressing
Hjemmelavet kold kartoffelsalat
Flødeporrekartofler
6 kinds of seasonal salads and vegetables
2 different dressing
Homemade cold potato salad
Cream leek potatoes
6 Sorten Salate und Gemüse
2 Sorten Dressing
Hausgemachter kalter Kartoffelsalat
Gratinierte Kartoffeln
Mørstegt oksesteg med US-barbeque
Saftig kalkunfilet med indisk karry og ananas
Kyllingelår krydret som i Spanien
Hjemmelavede frikadeller
Roast beef with US barbeque
Juicy turkey fillet with Indian curry and pineapple
Chicken leg spiced as in Spain
Homemade meatballs
Rinderbraten mit US-barbeque
Putenbrust mit indischem Curry und Ananas
Hähnchenschenkel wie in Spanien gewürzt
Hausgemachte Frikadellen
Stor salatbar med mixed salat
Amerikansk coleslaw med snittet hvidkål, gulerod i strimler og rosiner
Dansk hjemmelavet kartoffelsalat, oliven, feta og provence croutons
Italienske flødekartofler med tomat og bacon
2 slags dressing
Large salad bar with mixed salad
American coleslaw with sliced cabbage, carrot in strips and raisins
Danish homemade potato salad, olives, feta and provence croutons
Italian cream potatoes with tomato and bacon
2 kinds of dressing
Salatbar mit gemischtem Salat
Amerikanischer Krautsalat mit geschnittenem Kohl, Karotten in Streifen und Rosinen
Dänischer hausgemachter Kartoffelsalat, Oliven, Feta und Croutons der Provence
Italienische gratinierte kartoffeln mit Tomate und Speck
Dressing
Helstegt tyndstegsfilet
Glaseret skinke
Stegt kyllingelår
Helstegt nakkefilet basilikum
Kryddermarineret kalkunfilet
Roasted thin fillet
Glazed ham
Fried chicken leg
Basil fillet
Spice marinated turkey fillet
Rumpsteak im ganzen gebraten
Glasierter Schinken
Gebratene Hähnchenschenkel
Basilikum-marinierter Nackenstaek
Marinierte Putenbrust
Bulgursalat
Paprika-majs-salat
Rødbede-æblesalat
Mixed salat med dressing
Flødeporrekartofler
Fransk baguette
Bulgur salad
Paprika-corn salad
Beetroot apple salad
Mixed salat with dressing
Cream leek potatoes
French baguette
Bulgursalat
Paprika-Mais-Salat
Rote-Bete-Apfel-Salat
Gemischter Salat mit Dressing
Gratinierte Kartoffeln
Französisches Baguette
---
Der vil også være mulighed for at komme ud og se ting i lokal-området. Vi håber der vil være muligt at lave ture til forskellige atraktioner. Es wird auch die Möglichkeit geben, auszusteigen und Dinge in der Umgebung zu sehen. Wir hoffen, dass es möglich sein wird, Ausflüge zu verschiedenen Attraktionen zu machen. We'll also be looking on things around the site. We hope to be able to arrange tours to these atractions.
Billetter skal købes i forbindelse med registrerings-formularen nedenfor.
Ticket must be bought thru our registration-form below.
Ticket must be bought thru our registration-form below.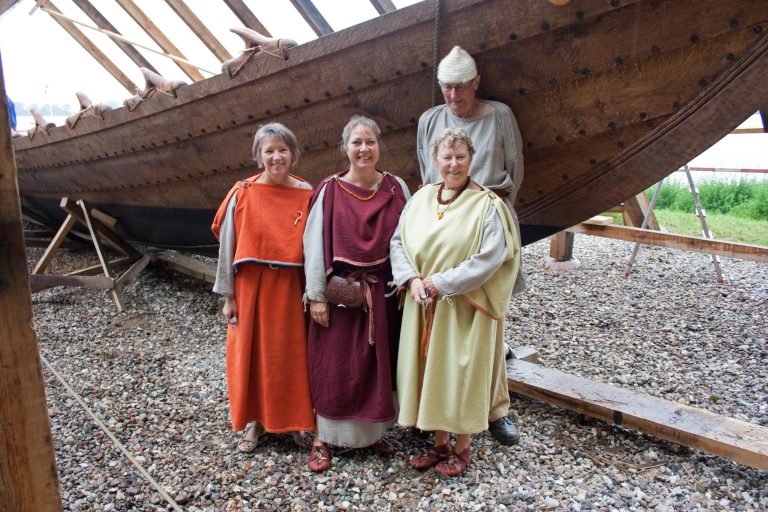 Nydam båden
Museum
Fælles rundtur med guide:
Joint guided tour:
Gemeinsame Führung:
: 50.00 DKK
Nydamselskabet har bygget en kopi af Nydambåden i fuld størrelse. has build a fullsize copy of Nydambåden. has build a fullsize copy of Nydambåden.
Beskrivelse mangler.
Description missing.
Beschribung fehlt.
---
Udvalg
Vi vil have et udvalg af øl, vand og slik.
Selection
We want a selection of beers, water and sweets.
Auswahl
Geplant ist eine Auswahl an Bieren, Wasser und Süßigkeiten.
Mjels Bryghus leverer flere forskellige speicaløl. Mjels Bryghus delivers different specialty beer. Mjels Bryghus liefert verschiedene Spezialbiere.
Flere detaljer kommer senere.
More details will come later.
Weitere Details folgen.
Betaing med kort
Ved forudbetalt ved tilmeldingen, eller optankning på lejren betales er kursen ca 7.50 DKK for 1 EUR.
(Vi hæver i DKK og din bank bestemmer veksel-kursen)
Payment with credit-kort
When loading your kiosk-account at registration, or topup on the camp, is the exchange-rate approx. 7.50 DKK to 1 EUR.
(We charge in DKK, and your bank exchages to your currency)
Zahlung mit Karte
Wenn Sie bei der Anmeldung im Voraus bezahlt werden oder das Tanken im Camp bezahlt wird, beträgt der Preis ca. DKK 7,50 für 1 EUR.
(Wir ziehen in DKK von deine Karte ab und Ihre Bank bestimmt den Wechselkurs)
Optankning med kontanter
EUR-sedler veksles med kurs 7.00, da vi har en del håndering af EUR. Vi har ikke mulighed for at give byttepenge.
Der kan tankes op ( og betales af besøgende ) med DKK.
Top-up using cash
EUR-banknotes can be used with an exchange-rate of 7.00. Geld zurück ist nicht nöglich.
DKK can be used for top-up ( and payment for visitors )
Top-up mit papir-geld
EUR-Banknoten werden zu einem Kurs von 7 DKK für 1 EUR umgetauscht. Wir können nicht EUR zurück-geben.
Topup ( und Zahlung für Gäste ) mit DKK ist möglich.
Refusion af ubrugt saldo.
Hvis deltagelsen på lejren et betalt online med kort, kan overskydende saldo på kiosk-kontoen blive refunderet til det benyttede kort.
Vi vil kontakte dig efter lejren med detaljer.
Refund of unused balance.
If the participation in the camp is paid online with a card, the excess balance in the kiosk account can be refunded to the card used.
We will contact you after the camp with details,
Rückerstattung des ungenutzten Guthabens.
Wird die Teilnahme am Camp online mit Karte bezahlt, kann das überschüssige Guthaben auf dem Kiosk-konto auf die verwendete Karte zurückerstattet werden.
Wir werden Sie nach dem Camp mit Details kontaktieren.
---
Tilmeldingen til hele campen omfatter:
Registration to the entire camp includes:
Die Registrierung für das gesamte Camp beinhaltet:
Følgende måltider er inkluderet i prisen:

The following meals are included in the price:

Die folgenden Mahlzeiten sind im Preis enthalten:

Morgenmad.

Breakfast.

Frühstück.

Middagsmad:

Lunch:

Mittagessen

Aftensmad:

Dinner:

Abendessen:

(Rester fra lørdag)

(Whatever is left)

(Was übrig geblieben ist)

Aften-buffeten er forskellig de tre dage, men inkludere 2-3 forskellige slags kød, forskellige salater og flere slags kartofler. Detaljer ses

her

.

Details on the evening buffet is different for the three days, but include 2-3 different kinds of meat, various salads and several kinds of potatoes. Details can be found

here

.

Das Abendbuffet variiert an den drei Tagen, aber beeinhaltet immer 2-3 verschiedene Fleischsorten, verschiedene Salate und verschiedene Arten von Kartoffeln. Details finden Sie

hier

.

Tilmelding kun til lørdag, indeholder kun forplejning nævnt i tilmeldingen nedenfor.

Registration only for Saturday, includes only meals mentioned in the registration below.

Die Registrierung nur für Samstag beinhaltet nur die in der Registrierung angegebenen Mahlzeiten.

Overnatning i sovesal eller eget telt eller campingvogn.

Accommodation in dormitory or own tent or caravan.

Unterkunft im Schlafsaal oder eigenem Zelt oder Wohnwagen.

Adgang til siddeplads med LAN og strøm. Der er Wifi i hele området.

Access to seating with LAN and power. There is Wifi throughout the area.

Zugang zu Sitzplätzen mit LAN und Strom. Es gibt Wifi im gesamten Bereich.